ATEZR P20 PLUS 20W LASER ENGRAVING MACHINE
AED 6,299.00
➤ The most powerful diode laser engraver in the world
➤ Working area expands to 430mm*430mm
➤ 15mm solid wood cut in one-pass by 20W Highest Dual Laser
➤ 12mm dark acrylic and 0.3mm thin sheet metal cuts easily
➤ Keeps edges clean and smooth with Air Assist
Description
Atezr P20 PLUS is a laser engraving machine that offers a large work area and decent features. The product includes everything you need to start your maker journey:
24W High Power – The work speed of the 24W Laser Module can be as high as 24800mm/min while cutting through basswoods as thick as 15mm. To put that into perspective, the cutting speed is up to 4 times that of the 6W Laser Module. It can literally fulfill a laser job in a blink of an eye.
Ultra-fine Laser Engraving and Cutting – Adopting the coupling compress technology, the area of the laser spot reduces to 0.08*0.06mm. It allows for higher energy density, which delivers high-quality laser works with impeccable details.
Focus Lever in Less Than A Minute – Upgraded the focus method to save your working time, which can make it easier to start your creation.
Limit Switches Auto-Identifying Boundaries – The X, and Y axis limit switches can accurately locate the working coordinates of the laser head, prevent the machine from violent collision and prolong the service life of the machine.
Eye protection flame retardant panoramic filter cover – The flame retardant filter panoramic filter cover can filter 97% of ultraviolet light, the glass is flame retardant and safer to use.
Color engraving on stainless steel – Both 10W and 20W laser engraving machines can engrave color in stainless steel. Your creativity will be brought to the next level with 340+ colors.
OVERVIEW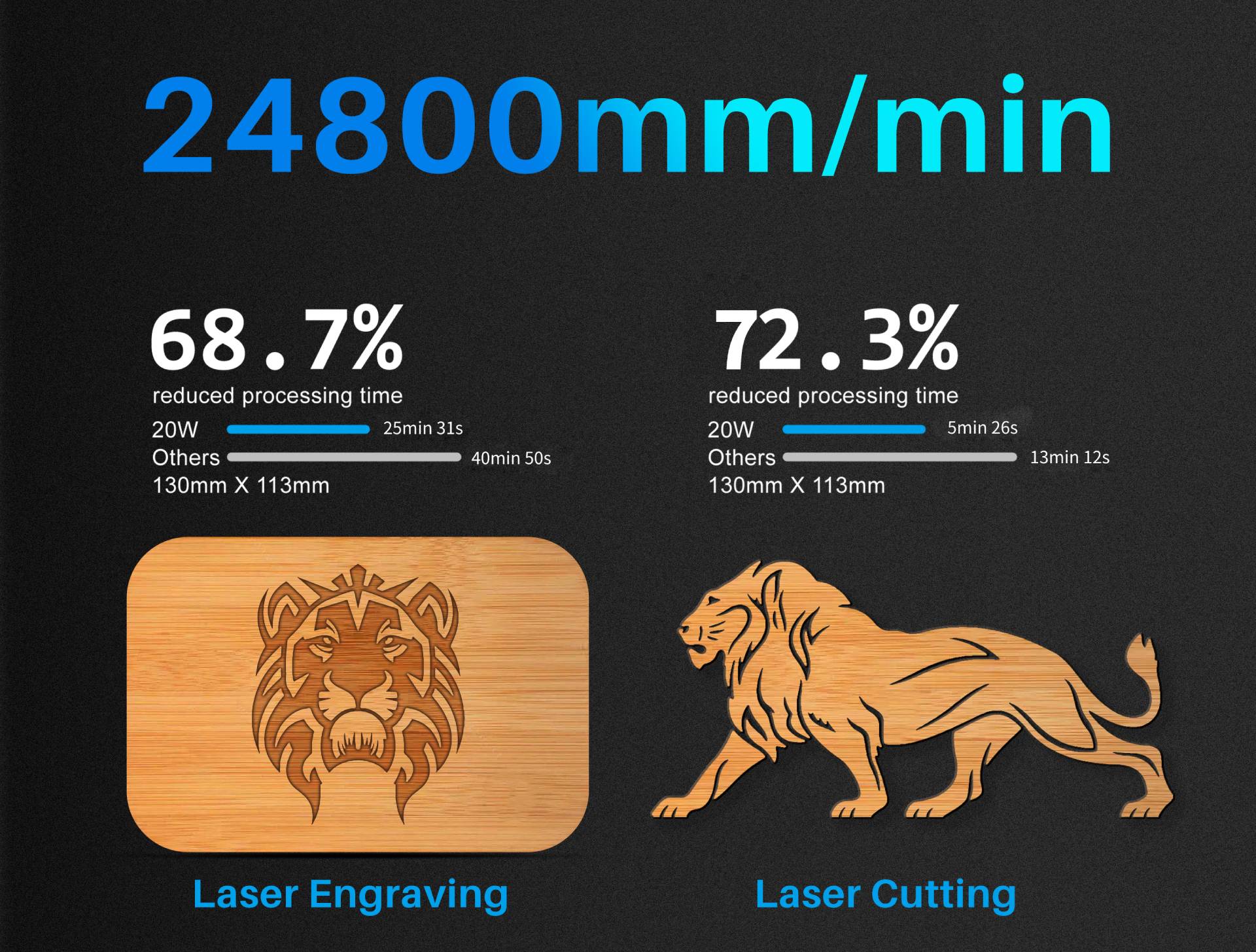 24800MM/min
Performance increased by 40%–80%
Atezr constantly researches and develops laser technology to apply an upgraded algorithm to its machines. Thanks to this dedicated work, the maximum speed of P20 PLUS is 24,800 mm/min.

With movement precision within 0.01 mm, Atezr speeds up the engraving and cutting process, improves efficiency by 40%–80% compared to other models, and lets users quickly obtain their finished product.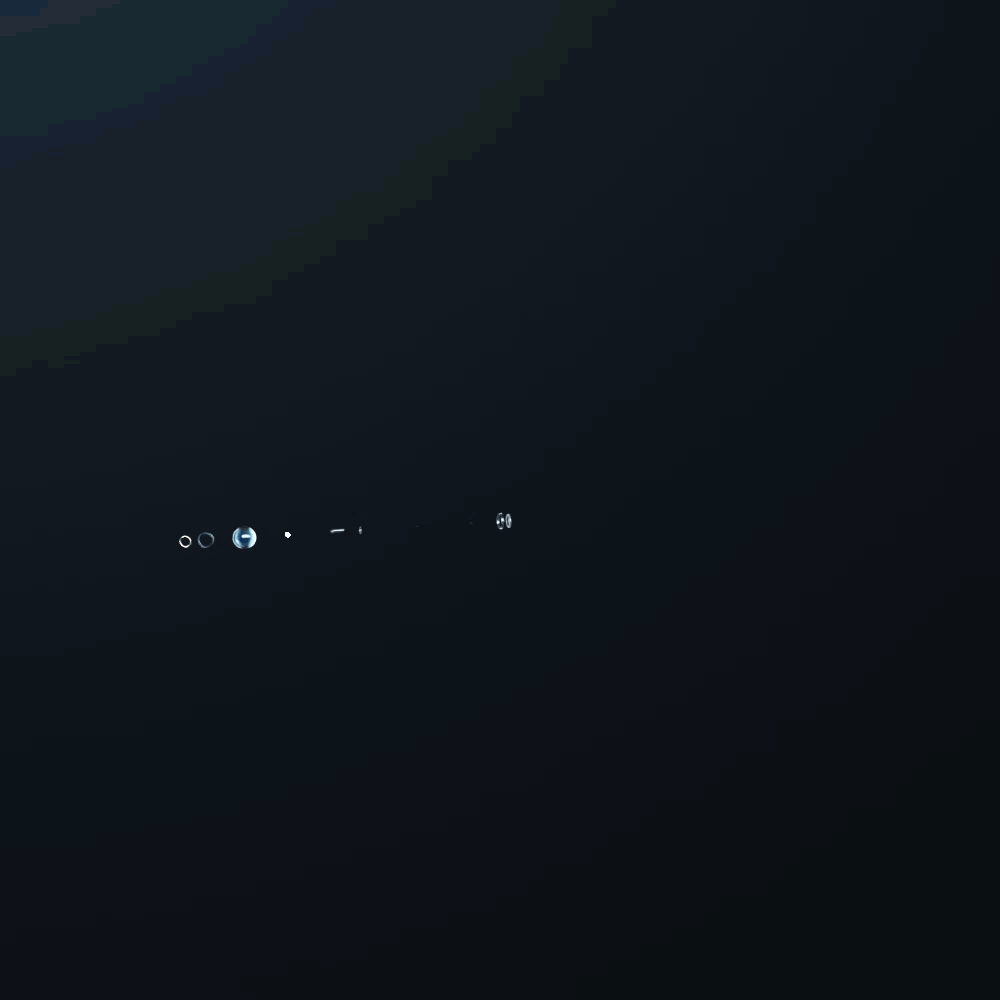 24W Laser Module
High-strength cutting of various materials
Atezr adopts the most advanced spot compression technology based on physical optics and innovates new laser coupling methods, compressing four 6W laser diodes with a focal length of 40 mm, which can penetrate 100+ materials and even cut 40mm black acrylic. More power, stronger cutting ability, and faster speeds are implemented to create a new generation of intelligent laser engraving machines to satisfy your various needs.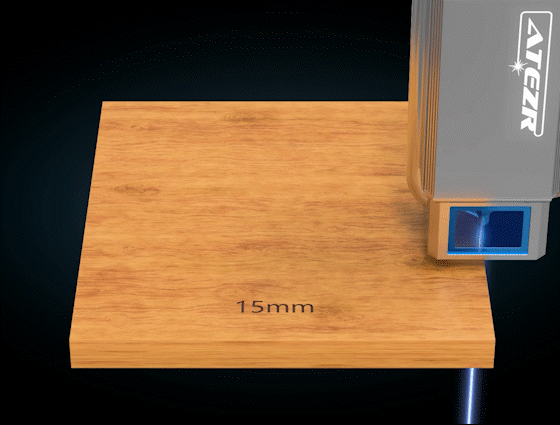 Strong Cutting Ability
40 mm black acrylic and 28 mm wood
The P20 PLUS is the most powerful laser engraving machine in the world, able to cut 15 mm Paulownia and 12 mm black acrylic at a time. Atezr P20 PLUS repeatedly cut 40 mm black acrylic and 25–28 mm wood individually, and even 3 mm stainless steel sheets.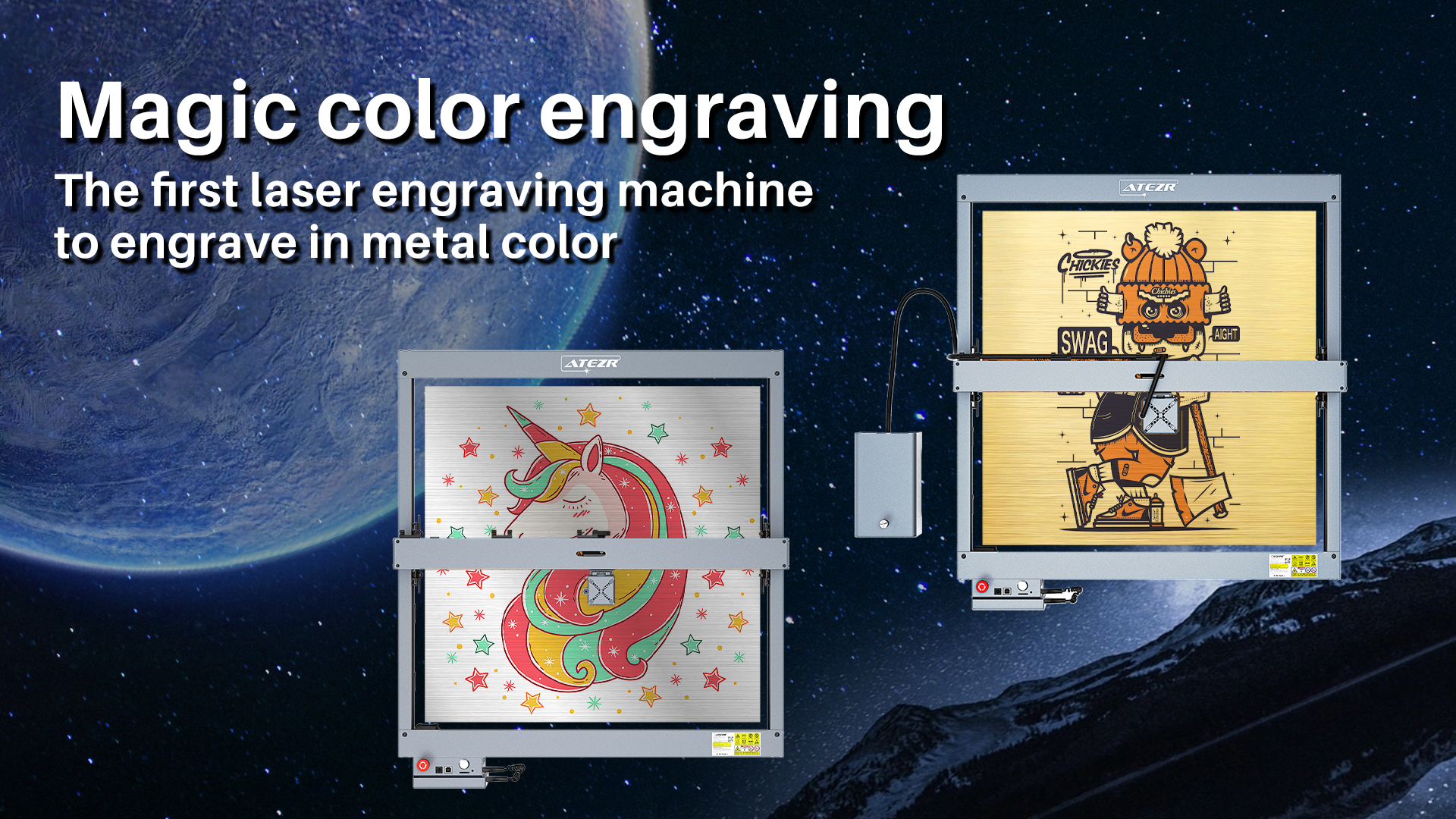 Magical Color Engraving
Add some color to your artwork
Atezr breaks the Metal engraving technical difficulties, which will no longer be limited to black, gray, and brown. As stainless steel is heated by the laser, colored oxides are generated on the surface depending on the defocus amount, pulse frequency, and other appropriate parameters, expanding your color palette to 340+ colors that will take your creativity to the next level. Use the correct parameters to let the laser bring your metal creations to life.
0.08 × 0.06 mm Compressed Spot
Engraving accuracy within 0.004 inches
With compressed spot technology, the P20 PLUS's spot area is reduced to 0.08 × 0.06 mm for fine engraving, with the engraving/cutting accuracy being reduced to within 0.004 inches. The cutting ability is also greatly increased, allowing this machine to engrave metal, stainless steel, ceramics, glass, and more.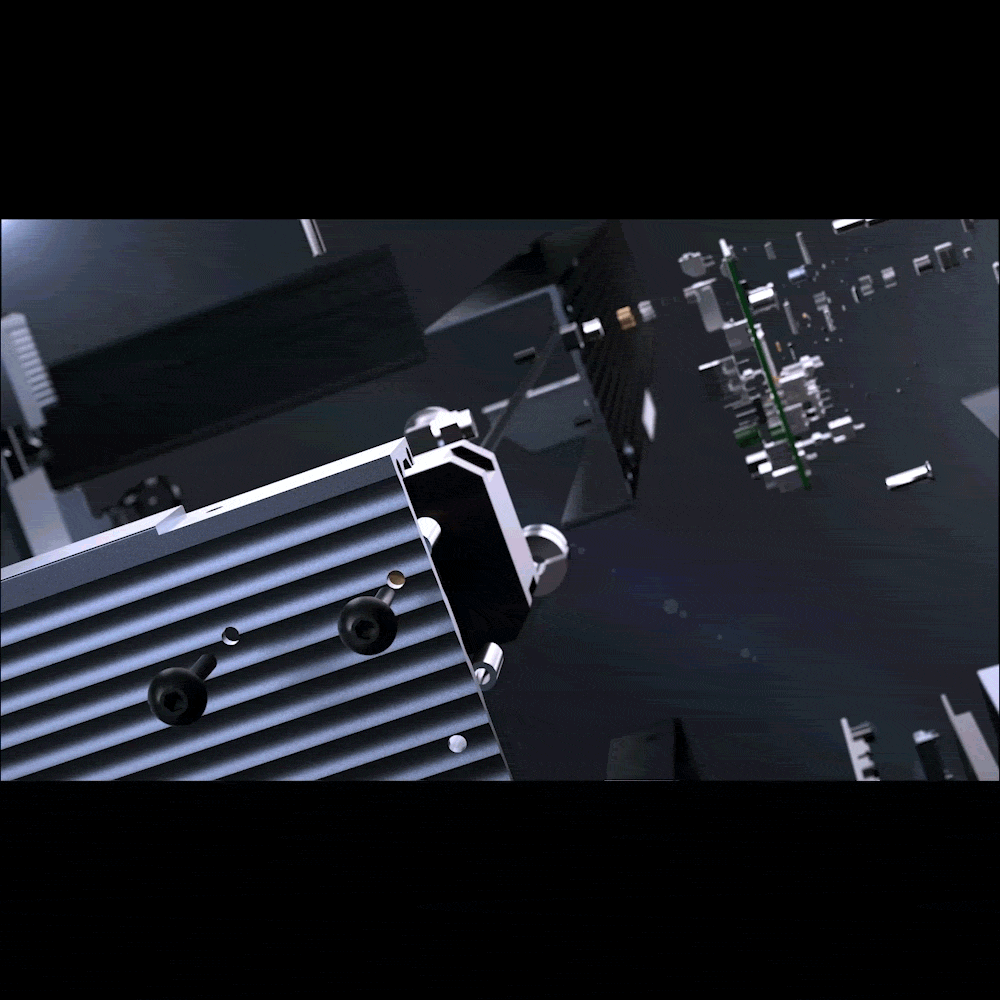 Integral Lead Screw
One-piece body extends machine life
The Atezr P20 PLUS adopts an integral lead screw instead of a combined coupling, a stepper motor, and lead screws, which makes the movement of the laser more precise and the coupling more durable. The belt is embedded in the design, which reduces the wear and tear, prolongs service life, and shortens the assembly time of the machine to 20 minutes.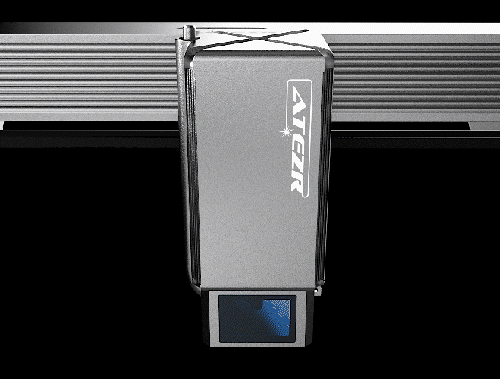 The Most Stable Machine
Supports 200–300 kg loads
Enhanced precision and an extremely stable working frame on an all-metal body make high-resolution engraving and cutting possible at breakneck speeds. Under high-speed operation, the laser head does not vibrate, so there are no wavy lines made on your project during the engraving process. The load-bearing capacity of the P20 PLUS is 200–300 kg. Not only is it high-quality and durable, but it also consistently provides superior performance and safety measures.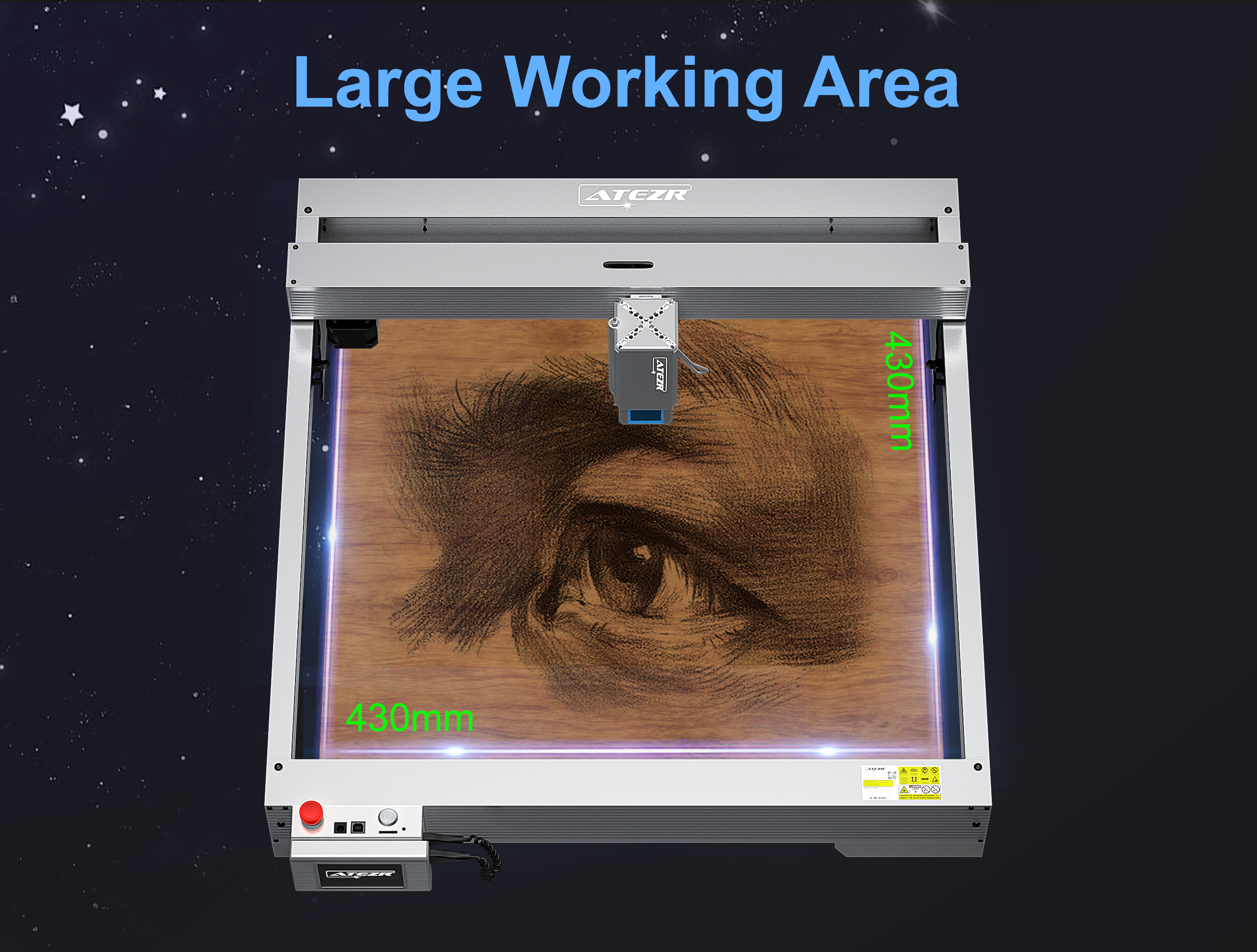 430 × 430 mm Workspace
Make large artwork more convenient
The large work area can accommodate various engraving and cutting projects—no need to move your materials!—and makes it easy to work on several projects at one time, which shortens the time required to transform your idea from imagination to reality.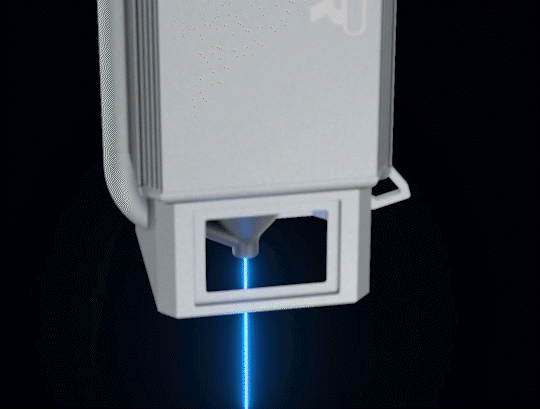 Flame-Retardant Filter Glass
Block UV rays to protect eyes
The Atezr P20 PLUS's flame-retardant filter panorama filter cover can filter 97% of ultraviolet rays. Compared to an acrylic filter, which will cause the engraving to burn, extremely easy to melt during machine operation but the glass has better flame-retardant capabilities and is safer to use.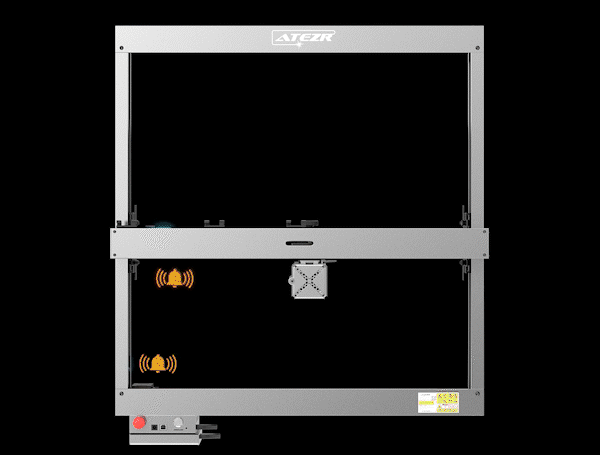 Limit Switches
Precise anti-collision positioning
The X and Y axes' limit switches can accurately locate the working coordinates of the laser head and update the processing progress in the software in time to prevent the machine from violent collision. Additionally, the X axis eliminates vibration by tightening the synchronous belt. The laser head still maintains 90% power after 30,000 hours of use, which is far longer than other products on the market.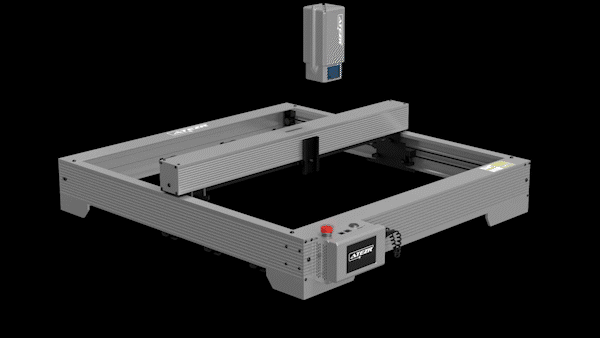 Metal Sliding Gear
Reduces machine wear to enhance work efficiency
Rather than polyester ammonia and plastic materials, the moving gear of the laser head is made of metal, which minimizes frictional resistance, ensures the smoothness of the gear, and improves work efficiency.
The innovative knob laser allows for 0.01 mm precision adjustment, which is convenient for precise positioning when engraving and cutting items that are oversized or very small. It is also quicker and more convenient to adjust the height of the laser.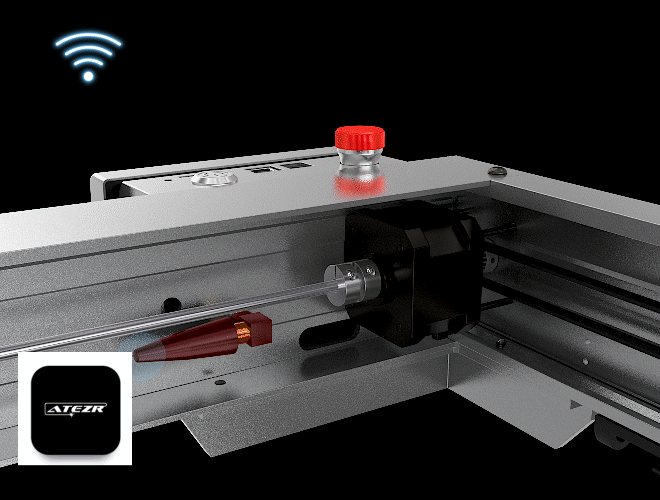 Atezr Laser App Functionality
Beginner-friendly app controls
Atezr machines have built-in Wi-Fi connectivity as well as standard TF card compatibility. The Atezr team developed the Atezr Laser app to take full advantage of these functions, allowing creators to use the mobile app to create new works remotely. This makes it easier for novices to operate the P20 PLUS and enables creativity without limiting users to one place.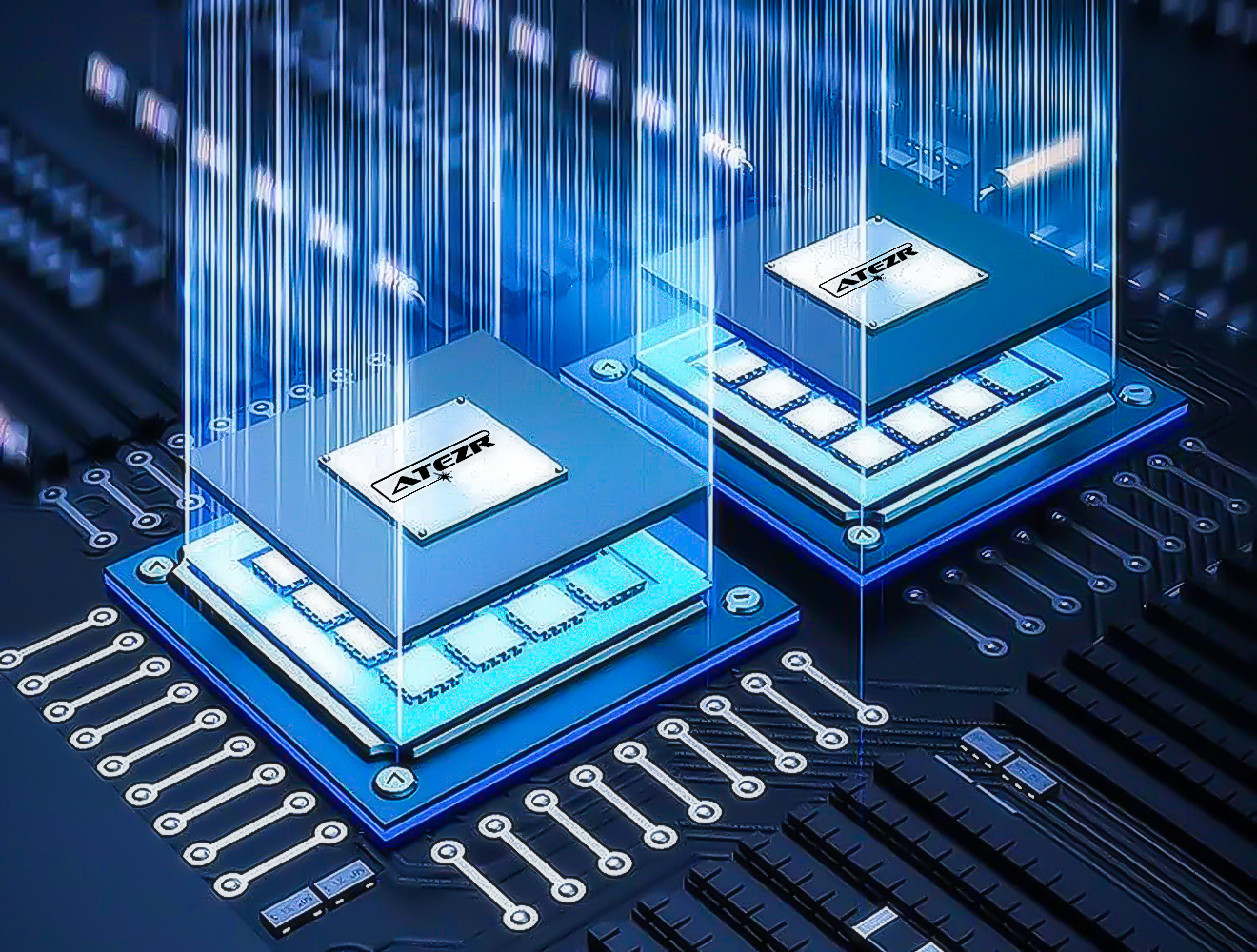 12th Generation Motherboard
Built-in 256-bit color scale
The P20 PLUS was developed in the Atezr laser technology application lab and upgraded with a 12th generation motherboard. With a built-in 256-bit color scale, this model is capable of producing engraving works that are finer in detail and whose contrast level is higher, so your engraving doesn't have to be only black. Efficient and stable data transmission is ensured through USB and Wi-Fi connection, and thanks to the modular design, you can quickly and easily assemble, disassemble, or change any component.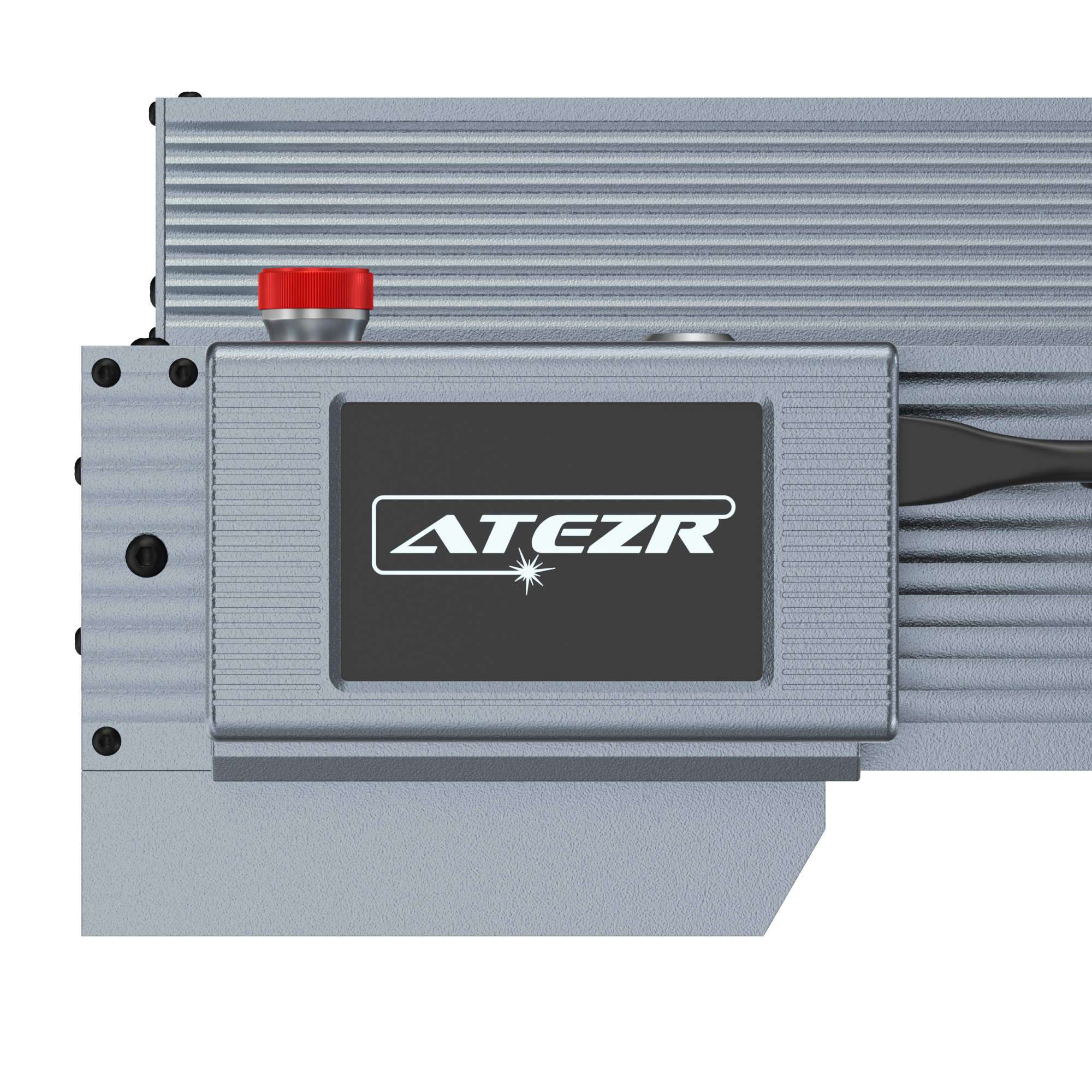 Generate Income
Make your money with Atezr
The Atezr P20 PLUS features a 3.5-inch touchscreen and an intuitive user interface that supports custom profiles, various built-in cases, and multiple languages. Compatible with Windows, macOS, and Linux systems, simply get connected with Wi-Fi, a USB flash drive, or a USB cable (included) to engrave on the go without the constraints of a computer.
Diverse Software Compatibility
No limits to who can use Atezr products
Atezr is compatible with a range of operating systems, supporting Win XP/7/8/10 as well as macOS and Linux systems, and the supported engraving file formats include NC, BMP, JPG, PNG, DXF, and more.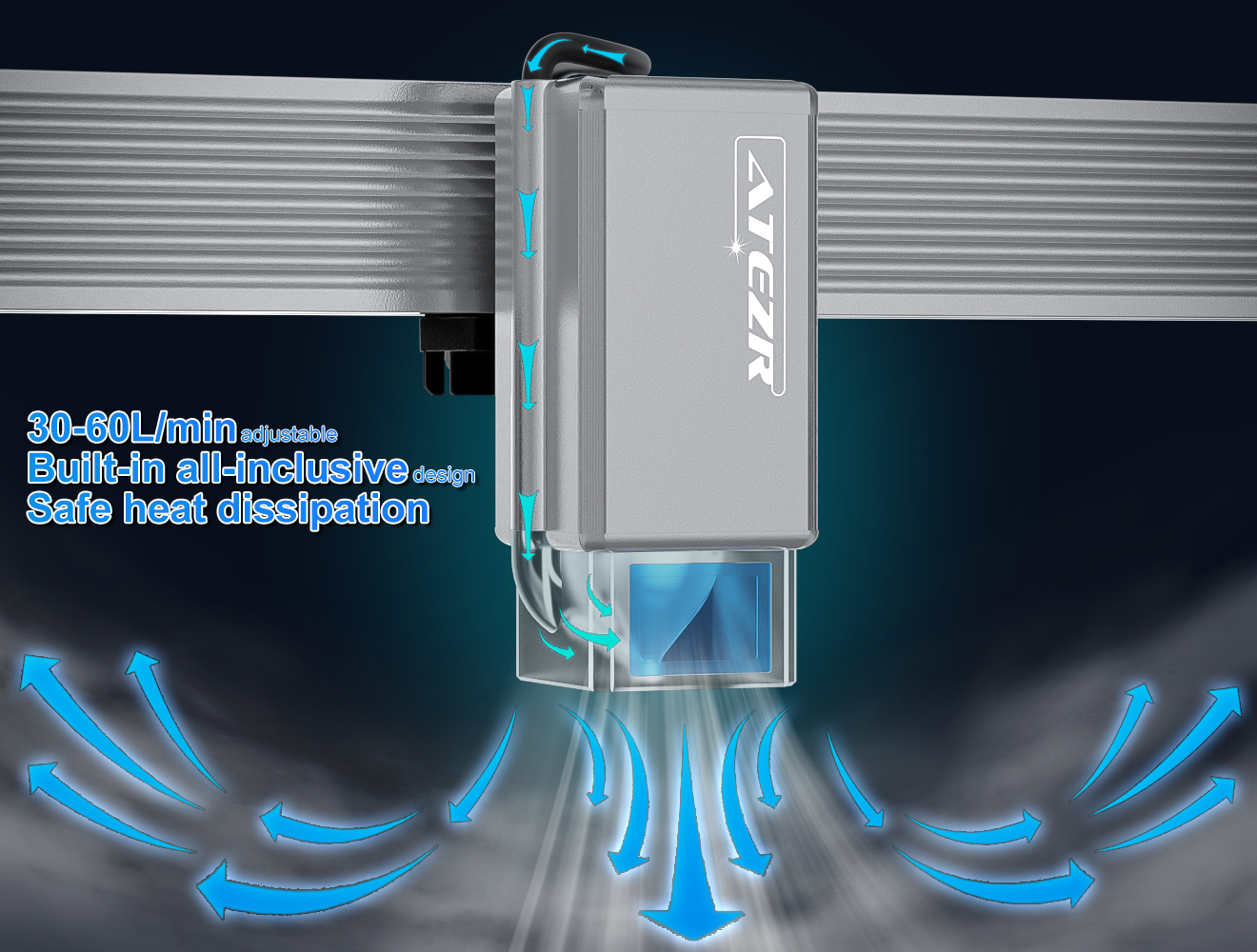 Air Assist
Keeps edges clean and smooth
By optimizing exhaust volume, lens pollution is minimized. As far as the functionality of the machine, the built-in air assist design is used to maximize the dissipation of hot smoke, reduce the temperature, and protect the laser head, making for cleaner and smoother cuts. The hose can maximize the working efficiency of air assist and avoid affecting the machine's operation and the final product. Air assist can be adapted to 95% of the machines on the market.

Safe-to-Use Design
Exclusive frame design is both safe and beautiful
The built-in design of the main board and electromechanical machinery can prevent dust buildup even in a busy workshop, ensuring that the normal service life of the P20 PLUS is longer than any other laser engraving machine on the market and improving safety during operation. This patented design is both safe and beautiful.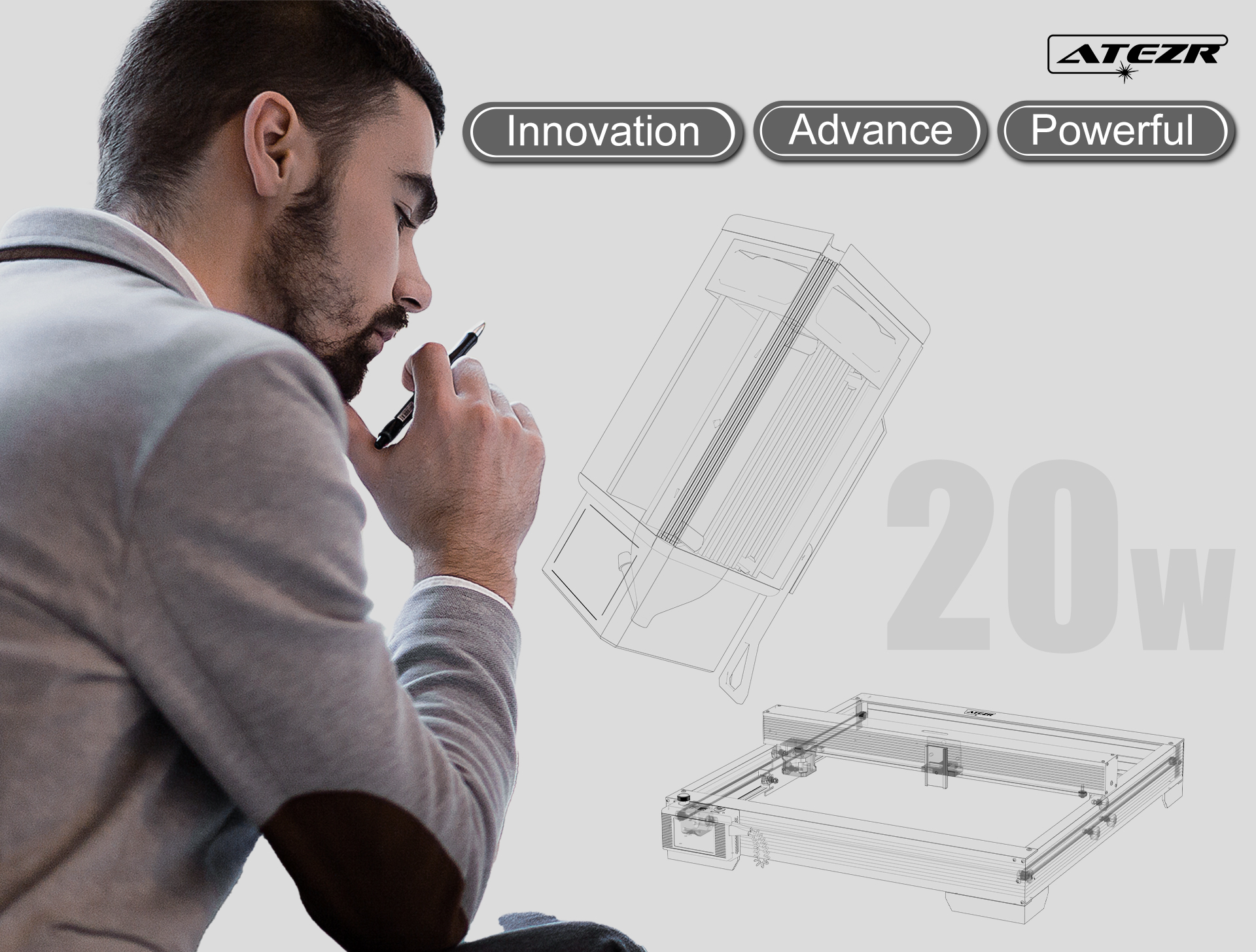 Unlimited potential, endless creation
Smarter, faster, and more powerful than ever,
The Atezr team got rid of the traditional machine shape, independently designed the appearance of the P20 PLUS, and combined this with an intelligently researched smart algorithm to create a laser engraver that can release every artist's full creative potential. Smarter, faster, and more powerful than ever, this new generation of laser engravers has everything you need.
Atezr P20 PLUS laser engraves with 0.05mm layer spacing. The high 529 DPI resolution and focal length of 40mm is adopted, can easily cut 25mm thick wood and 30mm thick black acrylic, even 0.3mm metal, which likes a laser blader.
1
Laser Module: Compression spot coupling technology
2
Aluminium Frame: Use An Integrated Lead Screw
3
Air Assist: 10-30L/min adjustable large airflow
4
Offline Engraving: Achieve intelligent working
5
Emergency Button: Protect yourself
6
Power Generator: Provide stable power
Specifications
Additional information
| | |
| --- | --- |
| Weight | 11.7 kg |
| Dimensions | 74.3 × 50.3 × 15.5 cm |
Reviews (0)
More Offers
No more offers for this product!