2021 Xiaomi AIoT Router AX6000 WiFi 6 Enhanced Edition 6000Mbps Wireless Rate 512MB RAM 4×4 160MHz 2.5G WAN/LAN Mesh 6 Independent Signal Amplifier – Black
AED 999.00 AED 999.00
2.5G/5G, AIoT, 5378Mbps,2.4Ghz/5Ghz,4KQAM
Description
Xiaomi Router AX6000 is the new standard for high-end routers in 2021. WiFi 6 enhanced edition, 6000 megabit speed.
6000Mbps wireless rate
6000M is the wireless speed specification level of the router, which includes a 2.4G frequency band rate of 574Mbps, a 5G frequency band rate of 4804Mbps, and an AIoT antenna rate of 583Mbps.
4×4 160MHz high bandwidth
Doubled the bandwidth and doubled the speed. Bandwidth is like a highway. Congestion is unavoidable when the conventional 4-lane lane encounters high traffic. The AX6000 doubles all lanes and doubles speed directly. Even if multiple devices are connected, you can enjoy the best smooth traffic experience.
4K QAM high-speed transmission
Most advanced transmission technology, 20% speed
4K QAM technology can further compress the data density and increase the amount of data transmitted at the same time by 20%. With a 4K QAM compliant device, WiFi speed can be sped up to another level.
2500Mb full speed network port
New cross-generation network port to meet the demand for network speed in the next 5 years. When the startup bandwidth exceeds Gigabit, the traditional router Gigabit Ethernet port will become a bottleneck, and the 2500M Ethernet port can easily meet the needs of future broadband upgrades. At the same time, it supports WAN / LAN switching. When used as a LAN port, it can be used with NAS (Network Attached Storage) to form a high-speed family private cloud disk.
MU-MIMO + OFDMA
Simultaneous streaming of multiple devices, without interference between games and watching movies. The combination of MU-MIMO and OFDMA allows up to 16 devices to be sent in one stream. Makes multiple devices faster and lower latency when used at the same time.
6 independent high-performance signal amplifiers
Every room also has a good signal
The independent signal amplifier can effectively improve the signal transmission power and improve signal reception sensitivity. Improve the router signal through the wall and cover a wider area. A single router can easily cover a large three-bedroom apartment.
Xiaomi mesh net
The multi-story apartment is fearless, the whole house WiFi signal has coverage without blind spot. Mesh technology allows multiple AX6000s to form a mesh network, which can cover the entire house with super-strong signals, whether it is a large apartment or multiple floors. The device can automatically roam between multiple routers smoothly and play without lag while walking.
Hardware-level network acceleration motor super stable operation all the time
Using a new generation of Qualcomm router chips, the NPU (Network Acceleration Engine) core is added, which is especially important for routers. The core of the CPU is used to handle complex calculations, and the NPU is focused on forwarding data. This combination can solve data congestion and packet loss when multiple devices are connected and reduce the lag of the game network.
248 devices online at the same time
Stable connection at all times. There are more and more connected devices at home, such as mobile phones, tablets, laptops, televisions, game consoles .And smart devices throughout the house. The 512MB large memory is specially prepared for multi-device networks, stable connection, and response at any time.
The smart whole house, one key open, Independent AIoT antenna
Smart device discovery, one-click network setup, open the Mijia APP, click "+" in the upper right corner to automatically discover Xiaomi smart devices that are not equipped with a network, no need to enter a password, no cumbersome setup, one-click network setup, Simple the elderly and children at home can easily operate it.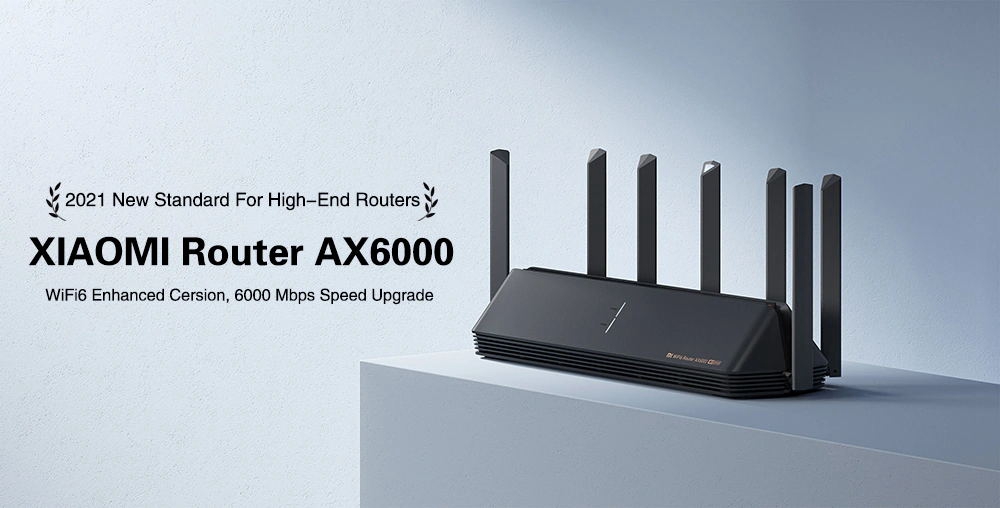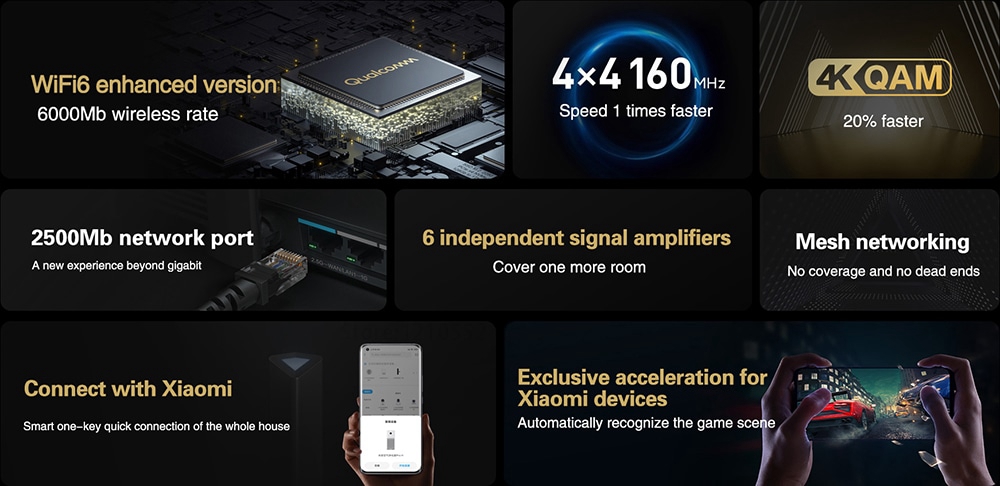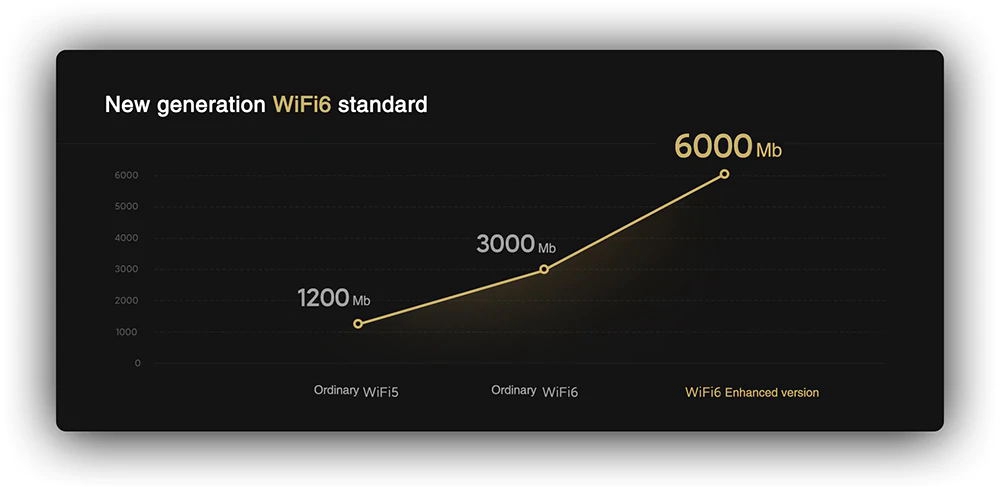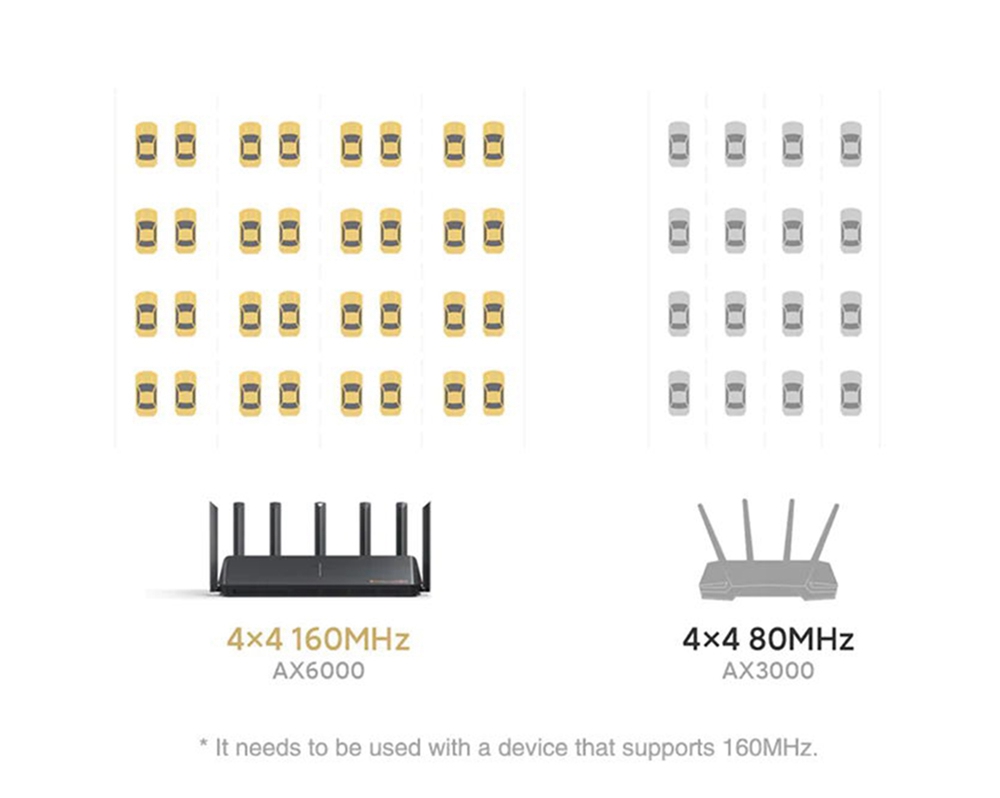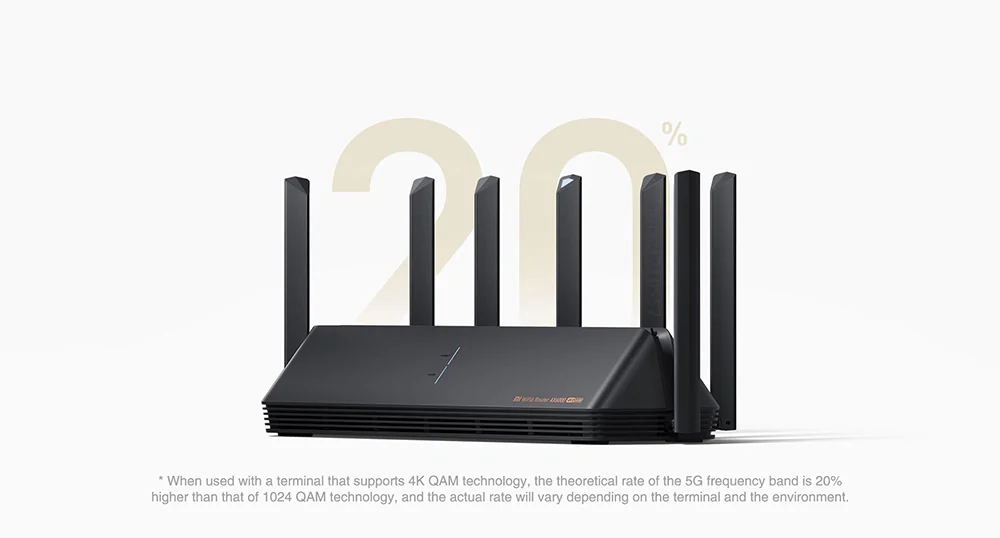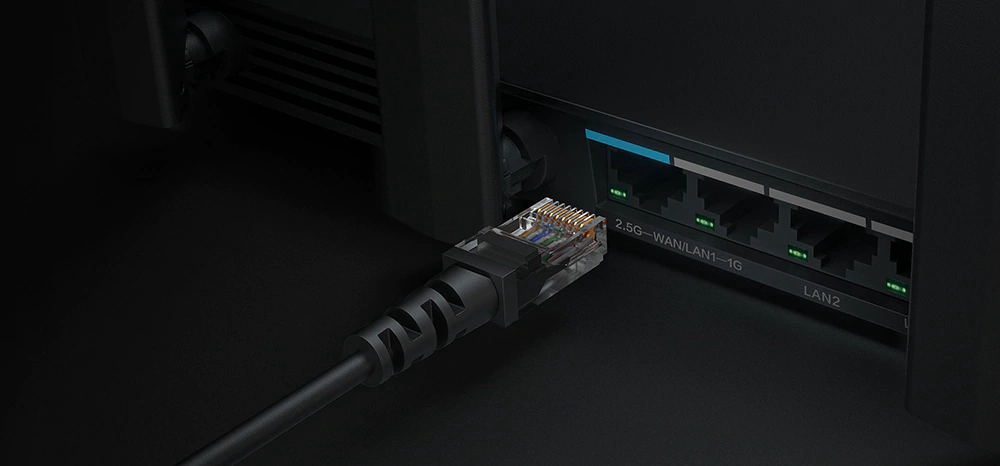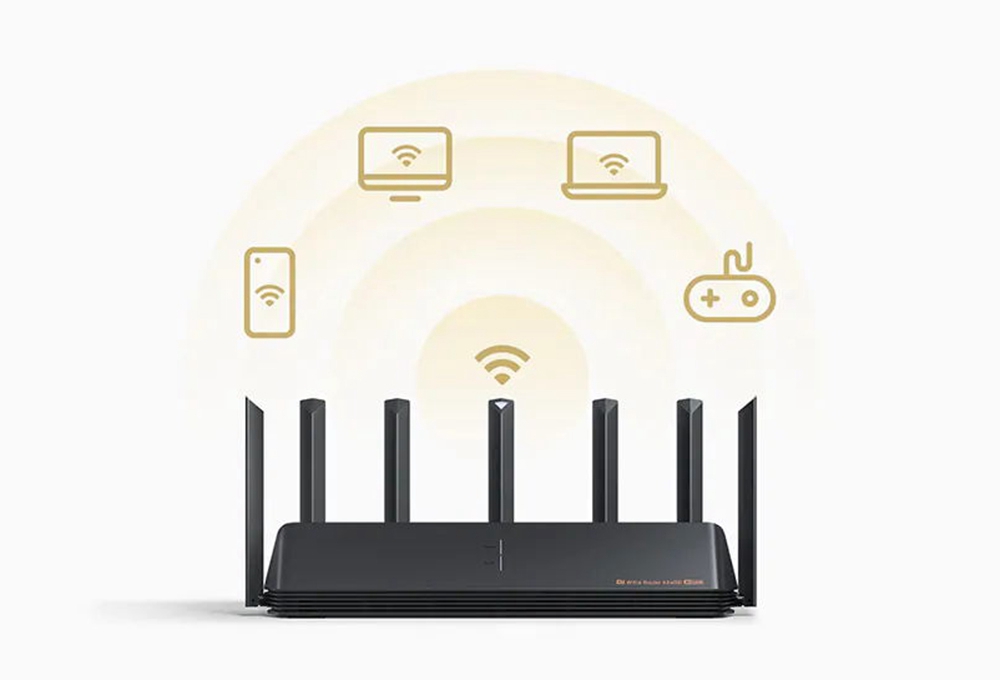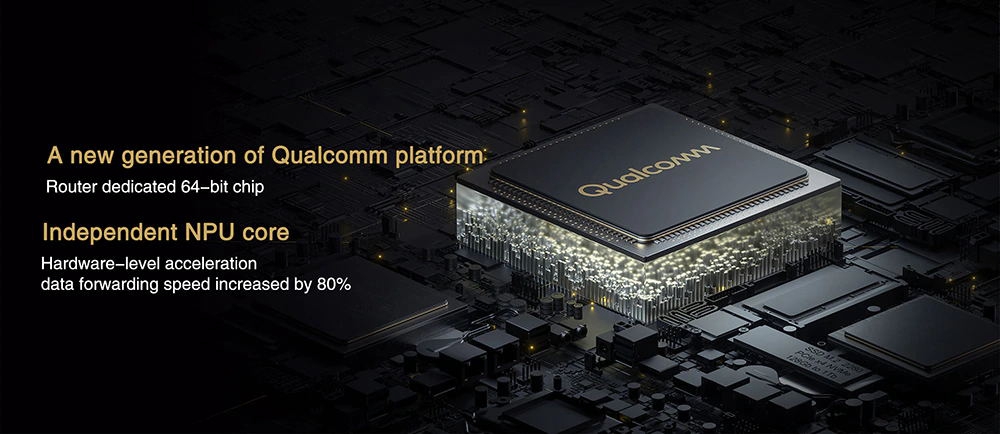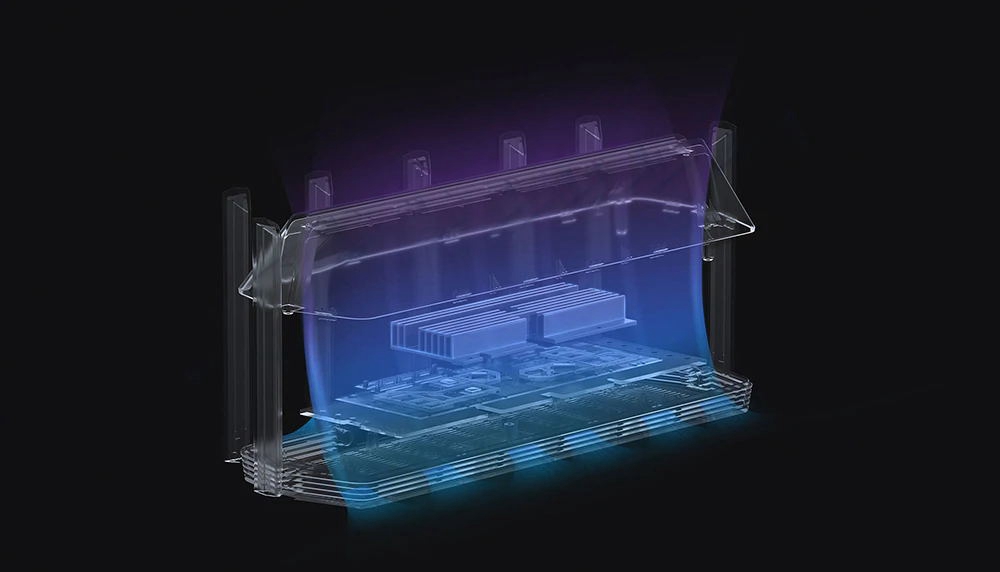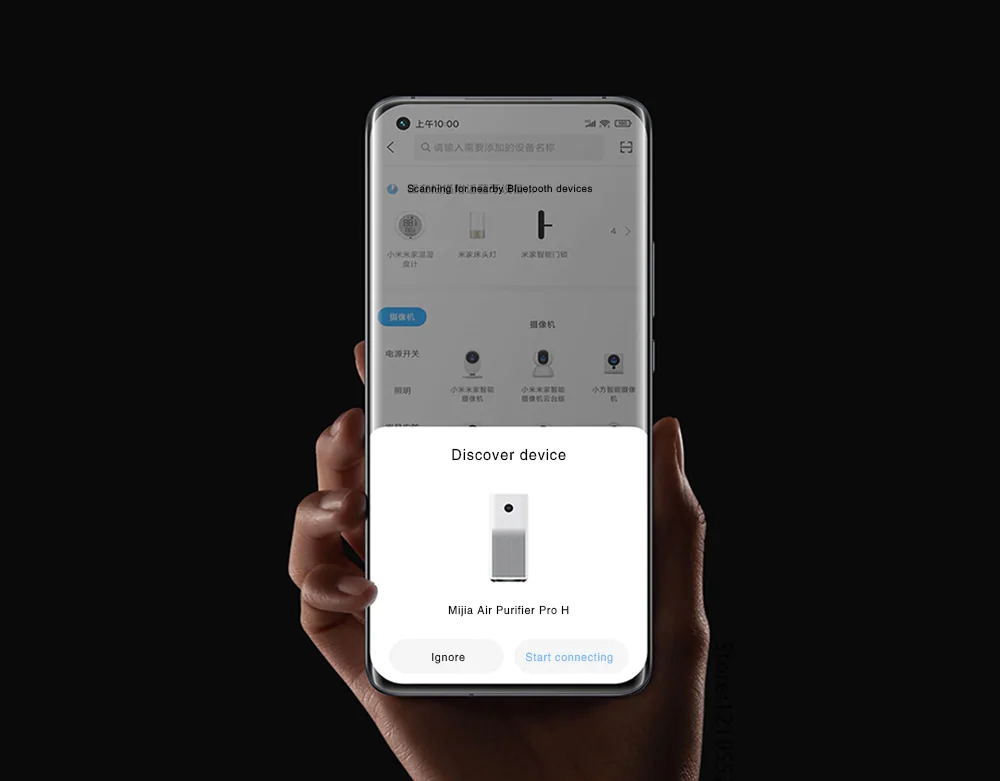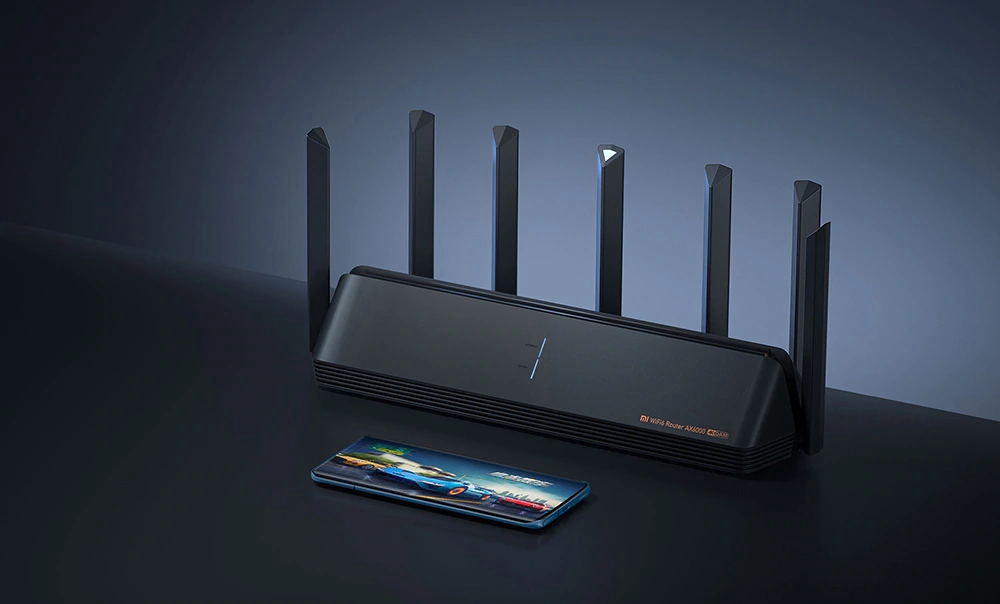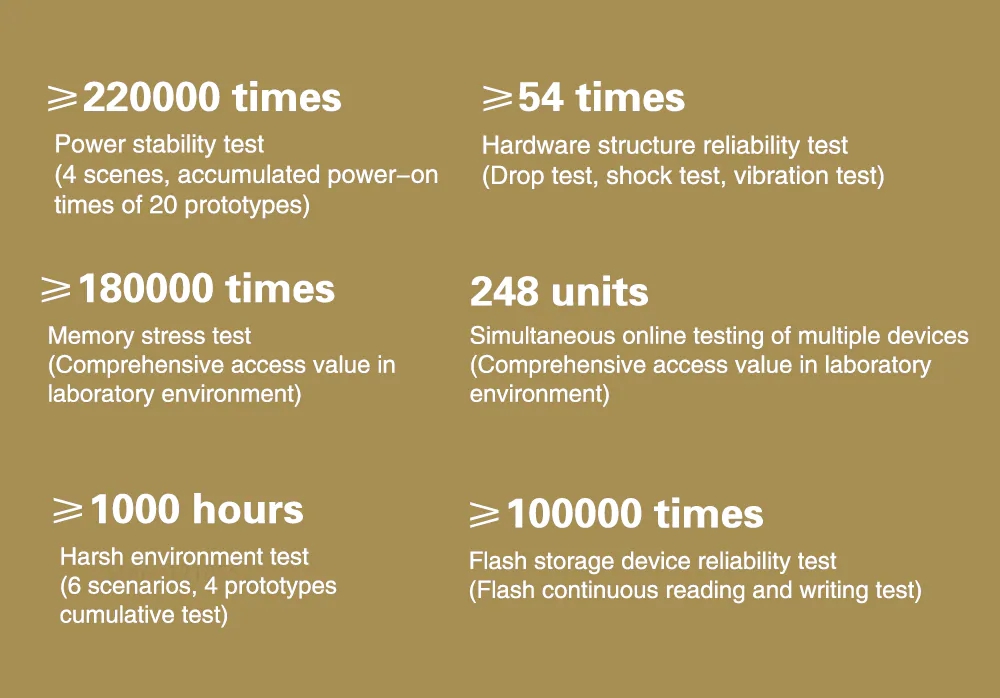 Specification
CPU
IPQ5018 CPU
Network acceleration engine
1.0GHz NPU
ROM
128MB
Memory
512MB
2.4G Wi-Fi
2×2 (IEEE802.11ax, 574Mbps)
5G Wi-Fi
4×4 (IEEE802.11ax, 4804Mbps)
Antenna
6*External high gain antennas 1*AloT Antenna
Heat dissipation
Natural heat dissipation
Physical interface
1*10/100/1000-2500M WAN/LAN (Auto MDI/ MDIX)
1*10/100/1000 WAN/LAN (Auto MDI/ MDIX)
2*10/100/1000 LAN (Auto MDI/ MDIX)
LED Indicator light
1*SYSTEM indicators
1*INTERNET indicators
4*Network ports
1*AIoT light
Reset button
1*Reset button
Power input interface
1*Power input interface
Wireless standard
IEEE 802.11a/b/g/n/ac/ax, IEEE802.3/3u/3ab
Certification standards
GB/T9254-2008; GB4943.1-2011
Dual band
2.4GHz, 5GHz
Wireless channel
2.4GHz Channel: 1,2,3,4,5,6,7,8,9,10,11,12,13
5GHz Channel: 36,40,44,48,52,56,60,64,149,153,157,161,165
Modulation Mode
11b: DSSS: DBPSK (1Mbps), DQPSK (2Mbps), CCK (5.5/11Mbps)
11a/g: OFDM: BPSK (6/9Mbps), QPSK (12/18Mbps), 16QAM (24/36Mbps),
64QAM(48/54Mbps)
11n: MIMO-OFDM: BPSK, QPSK, 16QAM, 64QAM.
Rate set: MCS0~MCS15
11ac: MIMO-OFDM: BPSK, QPSK, 16QAM, 64QAM, 256QAM.
Rate set: MCS0~MCS9 (support 4 streams)
11ax: MIMO-OFDM: BPSK, QPSK, 16QAM, 64QAM, 256QAM, 1024QAM.
Rate set: MCS0~MCS11 (support 4 streams). 4096QAM. Rate set: MCS12~MCS13 (support 2 streams)
Operating system
Intelligent router operating system MiWiFi ROM based on OpenWRT deep customization
Wireless security
WPA-PSK / WPA2-PSK/ WPA3-SAE encryption, wireless access control (black and white list), hidden SSID, intelligent anti-scratch network
Management application
Support Web, Android, iOS
Working environment
Working temperature: 0~40ºC
Storage temperature: 10%~90%RH Non-condensing
Working humidity: -40~70ºC
Storage humidity: 5%~90%RH Non-condensing
Package Included:
1 X Xiaomi AIoT router AX6000
1 X User manual
1 X Power line (12V/2A)
1 X Network cable
More Offers
No more offers for this product!