Amazfit GTS 2 Smartwatch with Alexa Built-In, 1.65″ AMOLED Display, Built-In GPS, 3GB Music Storage, 7-Day Battery Life, Bluetooth Phone Calls, 12 Sports Modes, Health Tracking, Water Resistant, Black
AED 495.00 AED 495.00
Amazon Alexa Built in (will be supported via OTA update)
Blood-oxygen Saturation Measurement
Sleep Quality Monitoring
Music Storage and Playback
Frequently Bought Together
Description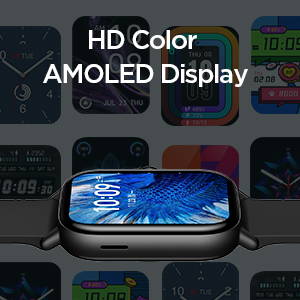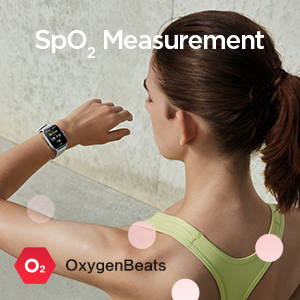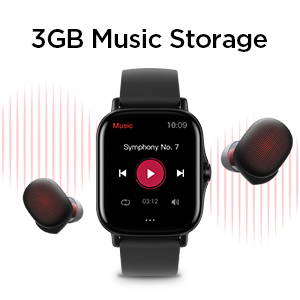 Color and Clarity.
Personalized Watch Faces
Blood-oxygen Saturation Measurement.
All-day Heart Rate Monitoring.
The AMOLED screen offers a 341 ppi pixel density making the display clear and exquisite, with vivid colors ensuring smooth readability. A broad range of watch face themes ensures that you're always in style, and they have a custom Always-on Display (Note 2), so you can see the interface you like anywhere, anytime.
SpO2 is a major indicator of human health, so the Amazfit GTS 2 introduces an SpO2 measurement function. When you engage in intense mental or physical activity, you can test your SpO2 level the moment you start feeling unwell, for a better understanding of your physical condition.
Integrating the Huami-developed BioTracker™ 2, the Amazfit GTS 2 features precision 24-hour heart rate monitoring, covering heart rate zones and providing warnings when your resting heart rate is abnormally elevated.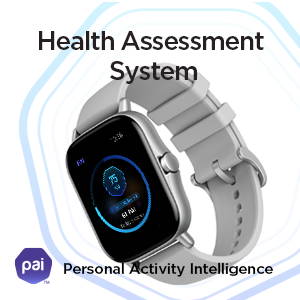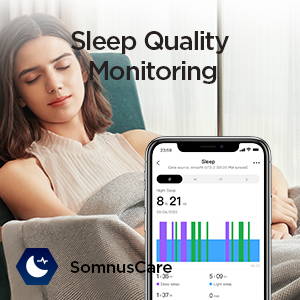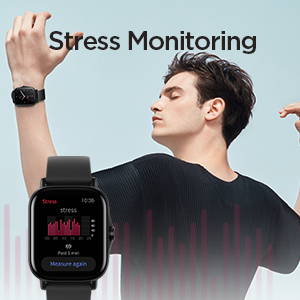 PAI™ Health Assessment System.
Sleep Quality Monitoring.
Monitor Your Stress Levels.
A PAI™ value is calculated by processing data about your heart rate, exercise time, and other complex health information with an algorithm. This value represents a customized health evaluation for each user based on their specific health data, offering everyone a unique experience.
The Amazfit GTS 2 supports in-depth sleep monitoring, which can more accurately determine the sleep stage (the light, deep, and REM (Note 7) sleep periods), monitor the sleep breathing condition, and provide sleep quality analysis and advice for improvement based on a night of sleep. The watch also recognizes naps over 20 minutes in order to record more complete sleep information.
Stress is an underlying cause of many health problems. With the GTS 2, you can check to see where your personal stress level lies – from relaxed, normal, medium or high – anytime you feel pressured throughout the day, so you know when to relax and reduce it.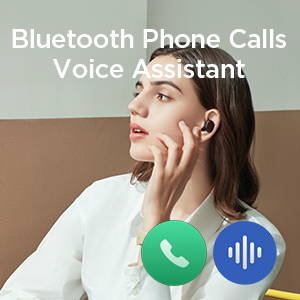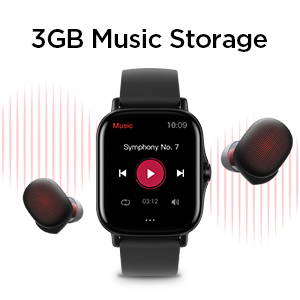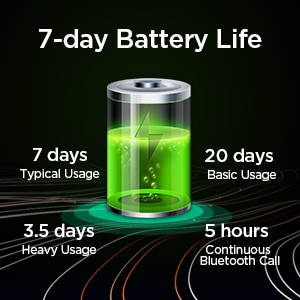 Liberate Your Hands.
Bluetooth Calls, Offline Voice Assistant.
Your Playlist on Your Time.
No Pause in Your Progress.
After connecting your Amazfit GTS 2 to your mobile phone, the Bluetooth call feature lets you answer calls on your watch via the built-in microphone and speaker. You can also perform voice operations on your watch without internet access through the offline voice control feature (note 8) – including turning on sports modes or opening the heart rate monitoring function.
Control mobile music playback through the watch, and with a massive 3GB (Note 9) of local music storage, you can transfer 300-600 songs from your mobile phone. With your Amazfit PowerBuds (Note 10) wireless headphones, or directly through the watch speaker, you can instantly listen to your favorite playlist – so put down your phone, workout, and follow the rhythm of the music.
Thinner, lighter, and with a longer battery life. The new Amazfit GTS 2 is equipped with a large 246mAh battery that can last 7 days with normal usage, and is always ready to escort you on your journeys and track your progress. Enjoy a full week of activity without worrying about carrying a charger everywhere.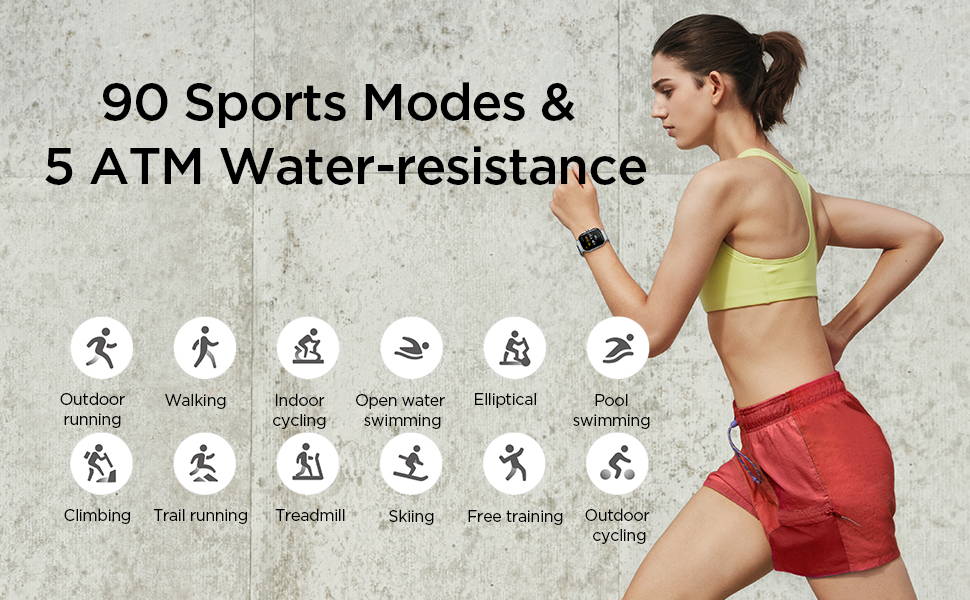 Smart Recognition of Sports Modes.
Activate one of the 90 sports modes that you need and, after the exercise is over, the watch will produce a corresponding analytical report which is also viewable in the mobile app, to help you continuously improve your exercise plan. Intelligent recognition of sports modes eliminates the need to manually select the sports modes, and 5 ATM water-resistance (note 13) ensures the watch is always ready for action,
*Notes:
1. The Amazfit GTS 2 adopts a new design concept. Thanks to the four-curved corners of the 3D glass cover, the product has no obvious border on the front, bringing a "borderless" visual experience.
2. Always-on Display: When the screen is illuminated, it displays system content. When the screen is in standby mode, it displays the time. This function requires users to manually set "Always-on Display". The user can switch on or off this feature through the watch or app.
3. SpO2 level can affect the oxygen level to various organs. If the level is too low, it could lead to dizziness, headaches, or cardiac arrest. This product is not a medical device. The measurement data is intended for reference only and cannot be used to perform professional diagnosis or monitoring of any medical conditions. Additionally, data accuracy will be affected if the sensor area makes contact with skin that is tattooed, pigmented or deep-toned. To measure SpO2, please keep your arm still.
4. The 24-hour heart rate detection feature requires the user to set and turn on the "heart health detection" feature; the 24-hour heart rate monitoring is supported in the app, and the minimum value can be set to 1 minute; this feature cannot be used for medical purposes or as a basis for medical diagnosis. The detection results are provided for reference only. Please consult professional medical institutions if you feel unwell.
5. The HUNT Fitness Study indicates that people who maintain a PAI™ score of 100 or higher show lower risk of hypertension, heart disease, and type-2 diabetes. HUNT Fitness Study: This study was conducted by Professor Ulrik Wisloff of the Faculty of Medicine, Norwegian University of Science and Technology. It lasted for more than 35 years and had more than 230,000 participants.
To use this function, all-day heart rate monitoring must be enabled.
6. Sleep monitoring: can record evening sleep and naps. When it detects that the wearer is asleep between midnight and 6AM, the sleep time between 6PM of the previous day and 11AM can be recorded as night sleep time; sleep between 11AM and 6PM lasting more than 20 minutes is recorded as a nap. Sleep lasting less than 20 minutes is not recorded.
7. The REM, also known as rapid eye movement, period is the basis for the normal biological rhythm and life-sustaining of mammals. It accounts for about 20%-25% of the entire night's sleep cycle. It is characterized by rapid eye movement, low-amplitude mixed-frequency EEG activity, and muscle tension relaxation. The rapid eye movement phase is the sleep phase related to dreams in the sleep cycle.
8. Offline voice assistant only supports English voice commands.
9. The maximum storage space for music is 3GB (due to the system space occupied, the actual space used by the user may be less than 3GB); based on 5-10 MB per song, it can store up to 300-600 MP3 songs.
10. Amazfit PowerBuds wireless headphones need to be purchased separately.
11. The battery life may vary according to the settings, operation conditions and other factors. So the actual result may differ from the laboratory data.
Typical usage scenario: Heart rate is always on, sleep monitoring enabled; 150 pushed messages a day lighting up the screen display, raise wrist to see watch time 30 times, bright screen operations for 5 minutes; exercise 3 times a week, GPS running for 30 minutes.
Basic usage scenario: Turn off the Bluetooth connection, heart rate and other functions of the phone, and only lift the wrist to turn on the screen 100 times a day.
Heavy usage scenario: Heart rate is always on, sleep monitoring and sleep breathing quality monitoring and stress monitoring enabled; 150 pushed messages a day lighting up the screen display, lift the wrist 100 times, bright screen operations 15 minutes; exercise 3 times a week, GPS running for 30 minutes
GPS continuous working time 25 hours: Turn on heart rate monitoring and GPS, use the GPS to map your workouts.
Continuous Bluetooth call for 5 hours: Connect the Amazfit GTS 2 to your phone, and use Bluetooth phone call.
12. Smart recognition of sports modes includes Outdoor Running, Treadmill, Walking, Outdoor Cycling, Pool Swimming, and Elliptical.
13. According to GB/T 30106-2013 / IOS 22810:2010 standard, the waterproofing reaches 50 meters. The Amazfit GTS 2 is tested by the National Clock Quality Supervision and Inspection Center, report number: SHES 200601198601. Genuine leather or leather straps cannot be worn for swimming. If you need to wear it for swimming, please use a silicone strap. In order to maintain a good wearing experience, please wipe the watch as soon as possible after soaking in water. A variety of factors can affect the waterproof capability, the lab condition 50 meters water-resistance test is only for reference.
Statements:
14. The product images and screen content shown above are for reference purpose only. The actual product (including but not limited to its appearance, color and size) and screen display content (including but not limited to the background, UI and graphics) may differ slightly.
15. The data that is provided on this page without a specified source is taken from internal laboratories or supplier data, and has been obtained under a specific test environment. The product's actual performance may differ slightly due to product individual differences, software versions, usage conditions and environmental factors.
16. To provide product information, specifications and characteristics as accurately as possible, our company may adjust and revise the text descriptions, images and other content in the above pages at any time. Due to real-time changes in product batches and production-supply factors, we may modify the above information as required without providing a special notice.
Reviews (0)
Only logged in customers who have purchased this product may leave a review.
More Offers
No more offers for this product!