ZEBRONICS ZEB-PIXAPLAY 18 (3800 lm / Remote Controller) Portable with Dolby Audio, E-focus, 1080p, Dual band WiFi, Wireless screen mirroring, Bluetooth 5.1, App download Android Smart Projector (Metal Grey)
AED 2,599.00
Projector Type: Full HD | Chipset: LED
Maximum Projection Distance: 19 ft
Lamp Life: 30000 hr
Resolution: 1080 pixel
Maximum Brightness: 3800 lm
Description
You can enjoy watching larger-than-life visuals on the ZEBRONICS ZEB-PIXAPLAY 18 Projector. Its quad-core processor offers seamless and smooth functioning. So, you can use this projector to comfortably watch your favourite films, TV shows, and anything from OTT platforms. Also, this projector supports wireless casting, web streaming, and app downloads. Moreover, with a screen size that can be adjusted up to 508 cm, this projector provides a big-screen entertainment experience.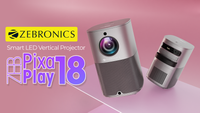 Android Smart LED Projector
Equipped with a Quad-core processor, the ZEBRONICS ZEB-PIXAPLAY 18 Projector ensures smooth and hassle-free performance. So, you can conveniently watch your favourite movies, TV shows, and content from the OTT platforms on this projector. Besides, this projector is compatible with app downloading, online streaming, and wireless casting.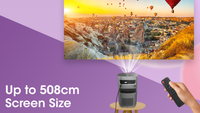 Large Screen Entertainment
Featuring a customizable screen size of up to 508 cm, this projector offers a large-screen entertainment experience. So, you can relax while using the remote to adjust the focus with the help of electronic focus.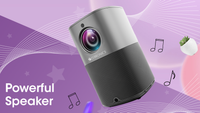 Crystal-clear Audio
Equipped with an inbuilt speaker, this projector renders high-quality, loud, and sharp sound. Additionally, you can even connect external speakers with the help of its up to 3.5 mm AUX output port.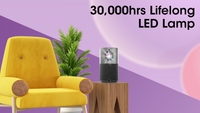 Long-lasting Performance
Thanks to its LED lamp light source, this projector offers a lifetime of up to 30,000 hours. And, the light source can maintain a constant brightness output for a long period of time.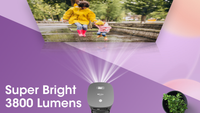 Vivid Images
Courtesy of its up to 3800 lumens supports, this projector provides vivid and bright video output. This way, you can enjoy excellent colour accuracy, vibrant visuals, and realistic colour output.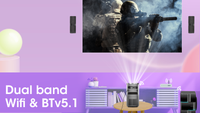 High-speed Internet Connection
Integrated with dual-band Wi-Fi with 2.4 GHz and 5 GHz connectivity, this projector offers a smooth, speedy, and reliable connection to the Internet. And, it features Bluetooth v5.1 support for wireless keyboard and mouse input connectivity.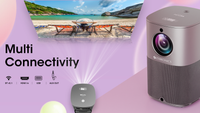 High Compatibility
This projector is compatible with HDMI and USB input for a range of video and audio formats, including Dolby Atmos decoding.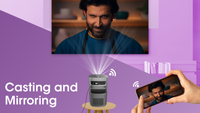 Wireless Mirroring
You can connect your Android or iOS smartphone, tablet, and laptop to this projector easily and wirelessly cast or mirror the content on a large screen.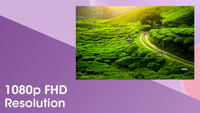 Full HD Native Resolution
Offering up to 1080p video content and a Full HD 1080p output resolution, this projector renders sharp, detailed, and vibrant images.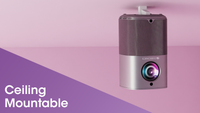 Easy to Mount
This projector's ceiling mount option can be used in conjunction with the included remote control. Even after the projector has been mounted, electronic focus (remote-based) makes focusing hassle-free. Moreover, all menus and UI features can easily be accessed with the help of the remote control.
Reviews (0)
Only logged in customers who have purchased this product may leave a review.
More Offers
No more offers for this product!